Jordan Kastrinsky hosts Simplex 3D co-founder and CEO, Avi Aflalo, in his popular podcast "High Tech On The Low" to chat about entrepreneurship journey, 3D and AI.
In the podcast, Avi, describe how 3D modeling has changed the way that many stakeholders operate. From engineers to city planners to even everyday citizens on their way to work, 3D technology provides a much more comprehensive, updated view of an area than ever before. Avi Aflalo, CEO and co-founder of Simplex 3D has seen his company's solution deployed over multiple industries, in multiple countries, with great success in redefining how 3D technology can drive greater efficiency and accuracy in real estate and urban planning. Now, with AI and other developments, Avi is looking to see how to integrate them into his platform to drive the new generation of 3D planning tools.
Google Earth, a platform visited by 30 million users monthly since its 2001 launch, now offers enhanced 3D modeling of over 2,500 cities globally. Its recent API launch allows for streaming these 3D city models to external systems, potentially eliminating the need for costly aerial photography and intricate 3D modeling processes for developers. This could revolutionize the gaming industry, enabling more realistic game maps, and could fast-track new AR/VR apps for tourism, property tech, and autonomous vehicles. However, there are challenges: the platform restricts detailed ground-level views, raising quality concerns, and Google's current terms prohibit commercial deployment of the API, with substantial data limits. Moreover, concerns linger about future costs for developers and the frequency of model updates. Google's potential impact on the 3D industry is immense, but its future plans, especially commercial aspects, remain uncertain.
The New Google Earth 3D release for developers and gamers: is this a real revolution or just a teaser?
Who hasn't checked out Google Earth before booking a vacation abroad to see what the hotel or resort really looks like, plan your itinerary, or take a sneak peek at destinations you probably won't visit anytime soon? Since its launch in 2001, the Google Earth service has become super popular, with an estimated 30 million visitors per month.
Google's 3D modeling offers an impressive coverage of around 2,500 cities across the globe, where we can visit New York, San Francisco, London, Paris, Rome, Tokyo, Moscow, Sydney, and more. But is it really a service whose entire purpose is free for would-be travelers and the curious at heart, or is there a far greater potential here?
https://www.linkedin.com/pulse/new-google-earth-3d-release-developers-gamers-real-revolution
Meeting the surge in demand for fiber optic networks – on time and on budget
To keep pace with the fast-growing adoption of fiber optic networks in Israel, and the vast number of consumers deploying fiber optics, Partner had to act fast, and quickly deploy networks in new areas throughout the country. This led to the company's launch of its state-of-the-art Partner Fiber, and the critical need to expand its fiber optic infrastructure nationwide. "With Partner Fiber, fiber optic networks aimed at the mass market, we were able to go the 'extra mile' for our customers, and deliver consistent high-quality communications, at the best available speed," said Pavel Kleiman,
Infrastructure Manager at Partner. "But, evaluating the feasibility of expanding our fiber optic networks, especially designing networks at remote sites across the country, is easier said than done."
Partner Communications Powers Fiber Optic Network Planning with Simplex3D
Founded in 1997, and publicly-traded on the Tel Aviv Stock Exchange (TASE: PTNR), Partner Communications Company (Partner), is a leading communications operator in Israel, providing a broad range of cellular communications. With 25% of the market share, and -3 million subscribers, services include internet, cellular, fixed-line, international telephony, OTT, and IPTV. As the first operator in Israel to deploy fiber optics, Partner currently holds 33% of this market.
The Maccabiah Games: Taking Event Management to New Heights with Simplex 3D
The Maccabiah Games streamlines, optimizes, and secures nationwide sporting event with
Simplex technologies, powered by an advanced web-based 3D management solution
The Maccabiah Games is the world's third-largest sporting event after the Olympics, and the FIFA World Cup. Inaugurated in 1932, this international multi-sports event is held in Israel every four years, with the mission of facilitating a worldwide gathering of young Jewish athletes, staging the highest levels of sporting competitions. Held under the auspices of the Maccabi World Union, the organization spans more than 450 clubs in over 70 countries on 5 continents, with 500,000 members.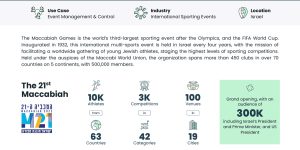 Simplex 3D, a startup specializing in highly detailed 3D urban models, played a crucial role during a crisis in Israel. Following a terrorist attack on October 7, which resulted in significant casualties, the company offered its platform for free to the country's security forces and emergency services. The platform's exceptional capabilities stem from a proprietary imaging system used in light aircraft to create intricate models of urban areas, initially intended for industrial purposes.
During the emergency, Simplex 3D's technology proved invaluable. According to CEO Avi Aflalo, their 3D models, offering detail down to three centimeters, were made accessible across Israel for security and rescue operations, surpassing the quality of Google's models. The platform's high-resolution imaging is achieved through a unique aerial sweeping technique, capturing extensive data to create the world's most detailed 3D city models.
The process involves three steps: aerial data collection, processing this data into 3D models using Simplex's advanced system, and integrating these models into a cloud-based SaaS platform. This accessibility enables users from various devices to utilize the models effectively, whether in the field or remotely. Additionally, the technology was extended for free to southern Israeli communities, aiding in their reconstruction post-attack.
In summary, Simplex 3D's innovative approach and swift response to a national crisis showcased the practical applications of their technology in emergency response and urban planning, significantly aiding in both rescue efforts and reconstruction processes.
In summary, Simplex 3D exemplifies how technological innovation can transcend its primary industrial use, becoming a vital tool in urban planning, emergency response, and community support.
n all, the company works with more than 100 municipalities worldwide, who use the models for urban planning, data-sharing with the public and even to monitor construction violations.
"Basically they do all of their planning on our systems," Aflalo says.
To Read the full article PRESS HERE: